Posts for: June, 2016
By David A. Rosh, DMD, PC
June 17, 2016
If you notice a small sore or a change in the appearance of the tissues inside your mouth, don't panic. It's likely a common, minor ailment that appears on a lot of skin surfaces (like the wrists or legs) besides the cheeks, gums, or tongue.
These small sores or lesions are called lichen planus, named so because their coloration and patterns (white, lacy lines) look a lot like lichen that grow on trees or rocks. They're only similar in appearance to the algae or fungi growing in the forest — these are lesions thought to be a form of auto-immune disease. Although they can affect anyone, they're more common in women than men and with middle-aged or older people.
Most people aren't even aware they have the condition, although some can produce itching or mild discomfort. They're often discovered during dental checkups, and although they're usually benign, we'll often consider a biopsy of them to make sure the lesion isn't a symptom of something more serious.
There currently isn't a cure for the condition, but it can be managed to reduce symptoms; for most people, the lesions will go away on their own. You may need to avoid spicy or acidic foods like citrus, tomatoes, hot peppers or caffeinated drinks that tend to worsen the symptoms. If chronic stress is a problem, finding ways to reduce it can also help alleviate symptoms as well as quitting tobacco and reducing your alcohol intake.
Our biggest concern is to first assure the lesion isn't cancerous. Even after confirming it's not, we still want to keep a close eye on the lesion, so regular monitoring is a good precaution. Just keep up with the basics — good oral hygiene and regular checkups — to ensure you have the most optimum oral health possible.
If you would like more information on lichen planus lesions, please contact us or schedule an appointment for a consultation. You can also learn more about this topic by reading the Dear Doctor magazine article "Lichen Planus: Mouth Lesions that are Usually Benign."
By David A. Rosh, DMD, PC
June 02, 2016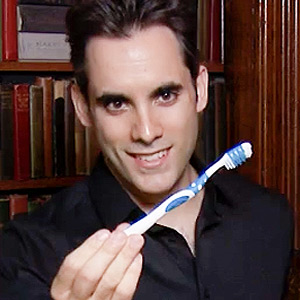 Magician Michel Grandinetti can levitate a 500-pound motorcycle, melt into a 7-foot-tall wall of solid steel, and make borrowed rings vanish and reappear baked inside bread. Yet the master illusionist admits to being in awe of the magic that dentists perform when it comes to transforming smiles. In fact, he told an interviewer that it's "way more important magic than walking through a steel wall because you're affecting people's health… people's confidence, and you're really allowing people to… feel good about themselves."
Michael speaks from experience. As a teenager, his own smile was enhanced through orthodontic treatment. Considering the career path he chose for himself — performing for multitudes both live and on TV — he calls wearing an orthodontic device (braces) to align his crooked teeth "life-changing." He relies on his welcoming, slightly mischievous smile to welcome audiences and make the initial human connection.
A beautiful smile is definitely an asset regardless of whether you're performing for thousands, passing another individual on a sidewalk or even, research suggests, interviewing for a job. Like Michael, however, some of us need a little help creating ours. If something about your teeth or gums is making you self-conscious and preventing you from smiling as broadly as you could be, we have plenty of solutions up our sleeve. Some of the most popular include:
Tooth Whitening. Professional whitening in the dental office achieves faster results than doing it yourself at home, but either approach can noticeably brighten your smile.
Bonding. A tooth-colored composite resin can be bonded to a tooth to replace missing tooth structure, such a chip.
Veneers. This is a hard, thin shell of tooth-colored material bonded to the front surface of a tooth to change its color, shape, size and/or length; mask dental imperfections like stains, cracks, or chips, and compensating for excessive gum tissue.
Crowns. Sometimes too much of a tooth is lost due to decay or trauma to support a veneer. Instead, capping it with a natural-looking porcelain crown can achieve the same types of improvements. A crown covers the entire tooth replacing more of its natural structure than a veneer does.
If you would like more information about ways in which you can transform your smile, please contact us or schedule an appointment for a consultation. You can also learn more about the techniques mentioned above by reading the Dear Doctor magazine articles "Teeth Whitening," "Repairing Chipped Teeth," and "Porcelain Crowns & Veneers."